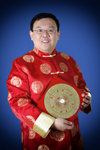 Master Philip Wong (WONG LAP DEI), a Fengshui apprentice trained by the great masters from Hong Kong/China and Taiwan. As a certified Fengshui practitioner, Philip has been practicing Fengshui and conducts in-depth researches for more then 20 years. With his living overseas experience, Philip has been offering his professional services around the globe, serving clients from both private and commercial sectors, countries including Asia and Australasia. Some of Philip's clients come from up market listed companies, property developers, hospitals, schools, office buildings and gaming outlets. His clients mainly seek Philip's advice on Fengshui to ensure that their business environments are in harmony.
Philip also writes periodic article for newspapers and magazines in Hong Kong and China. In Hong Kong, he has been interviewed by different multimedia about Fengshui. On one occasion, Hong Kong Daily News had invited Philip to give his Fengshui aspect on the newly built Government Headquarters of the Hong Kong Special Administrative Region of the People's Republic of China, Office of the Chief Executive, and Hong Kong Government House.
In different parts of Asia, Philip has conducted Fengshui seminars and hosted Q & A programmes to answer audiences' questions concerning feng shui and fate. At all time, Philip views Feng Shui and fate with a combination of eastern and western perspectives, utilising a scientific and mathematical approach in his analysis.
Philip's Consultation Services;
Fengshui services for commercial clients includes;
• Floor plan analysis
• Office Building on-site/off-site Fengshui consultation
• Provide property interior and exterior Fengshui advice
• Conduct Zhou Yi Fengshui Seminar
• Suggest suitable name for businesses
• Provide business advice
• Suggest auspicious dates for first day of business, move in/out.
Fengshui services for Private/Residential clients includes;
• Provide property interior and exterior Fengshui advice
• Provide personal fortune reading
• Suggest answers to personal questions and probabilities
• Suggest name/ provide analysis on earthly five elements
• Suggest auspicious dates for marriage, move in.
Contact:
Master Philip Wong (WONG LAP DEI)
WONG LAP DEI FENG SHUI & FORTUNE TELLING

Mob:
(852) 9185 5798
Tel:
(852) 3563 9498
Fax:
(852) 3563 9496
Email:
philipldwong@gmail.com
Web:
http://www.wonglapdei.com.hk
Address:
RM 01, 19/F, Workingfield Commercial Bldg, 408-412 Jaffe Road, Wan Chai, HK